SA Merino Evaluation Trial
5TH JUNE 2018
SA MERINO SIRE EVALUATION TRIAL - UPDATE
The site was established in 2017 with the first cohort of lambs born from 16 rams in June 2017. Detailed evaluation of these progeny has commenced with tremendous support from industry and ram breeders. The trial has continued at Keyneton Station in 2018 with a further 16 rams being evaluated. 60 ewes per ram were artificially inseminated in January, with lambing due in mid-June.
Australian Merino Sire Evaluation Association (AMSEA) trials provide the opportunity for objective comparisons to be made between rams from different studs by evaluating their progeny for sheep type, structure, wool production and carcass traits. The progeny are all run together in the same environmental conditions with all male progeny marked. The site is important for South Australia's Merino industry given no other public sire evaluation trials occur in SA. The site will make an important contribution to genetic improvement for Merinos in SA.
This is an accredited sire evaluation program run under the rigorous design, recording and data evaluation protocols of AMSEA.
Site Breeding Objective
Rams will be capable of producing progeny with 18-21 micron fleece at 12 months with at least 4kg of wool from 8 months growth from an easy-care plain bodied sheep. In addition, progeny should be capable of achieving 22-25kg carcass weight at 10 -12 months of age. Ewe progeny will be fertile and capable of high natural conception rates when first mated at 18 months.
Host property and ewe base
Keyneton Station, Keyneton are the host of the 2017 and 2018 cohort for the SA site. Keyneton Station is located in the eastern Mount Lofty Ranges and receives an average 500mm in a winter dominant pattern. The Keyneton Station ewes are 65-70kg and produce 19-20 micron wool. The ewes mated for the trial will be sourced from primarily 3.5 year old age group.
Site Structure
The site evaluated 15 rams and 1 link sire in 2017, and 14 rams and 2 link sires in 2018. Each year, 60 ewes were joined to each sire via AI in mid-January. Sire pedigree is established by DNA testing. Traits evaluated include:
• Visually assessed traits – as per AMSEA protocols and include: classer's grade, wool quality, pigmentation, conformation
• Fleece: greasy fleece weight, clean fleece weight, yield, fibre diameter, coefficient of variation of fibre diameter, fibre diameter curvature, staple length and staple strength
• Body weight: weaning, yearling and at second wool assessment (20 months)
• Body composition traits: eye muscle depth, fat depth
• Worm Egg Count (if conditions permit)
2017 SIRE ENTRANTS
AI occurred mid-January. At day 45, 610 ewes (from AI) were scanned as pregnant, representing the number of AI lambs. This gave a rate of 61% conception from the AI. There were no significant differences between the 16 different sires, nor the day of insemination.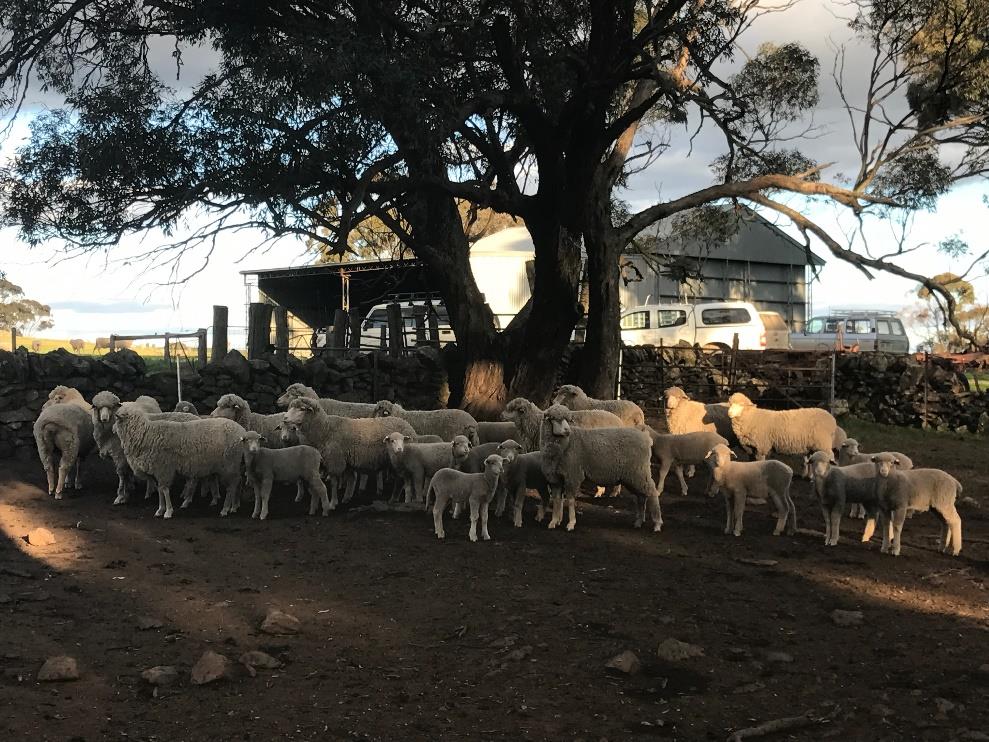 Ewes and lambs prior to lamb marking at Karinya yards, 26th July 2017 (photo courtesy of Georgie Keynes)
There were 553 progeny generated across the 16 rams that are now being evaluated. The average breech cover was visually assessed as 3.6/5 or 72%, and the average breech wrinkle was visually assessed as 1.3/5, or 26%. This indicates the lambs are reasonably plain. At 10 weeks of age, weaning weights were assessed, with single lambs weighing an average of 24.5kg and twin lambs weighing an average of 24.2kg live weight.
On May 28th 2018, major phenotyping was recorded on the 2017 progeny, including mid-side sampling, classing traits/scores, and carcass scanning. DNA results have recently been matched to progeny and are currently with AMSEA for processing. The phenotyping results have also been forwarded to AMSEA for processing, from which time all traits recorded since the trial's inception will be available for viewing.
KEYNETON SEASONAL SUMMARY, 2017
The break was late at Keyneton, occurring mid-June. As a result, the ewes were fed in a containment lot in early Autumn. Also in response to the season, the ewes were divided into twin and single mobs after pregnancy scanning. This allowed twin ewes to be fed a higher ration from self-feeders through lambing. When the break finally occurred in mid-June, the conditions were cold resulting in slow pasture growth.
Lambs were weaned on to vetch and oat pastures at 10 weeks of age, and were tip shorn in early October to reduce potential grass seed issues. At the start of Summer, the lambs were fed beans through self-feeders due to the lower summer feed availability.
2017 progeny lambs just prior to tip shearing (photo courtesy of Joe Keynes 11/10/2017)
2018 SIRE ENTRANTS
There was solid interest in the site from both SA and interstate ram breeders again in 2018, with 16 sires being accepted. CIDR's were inserted on the 4th January, removed and PMSG shots given on the 16th & 17th January, and AI occurred on 18th & 19th January across two very hot days. Vetoquinol has been a tremendous support of the site with their products allowing efficient and effective AI for both 2017 and 2018 matings. On 9th March at day 50 (from AI), the ewes were scanned as 50% pregnant. Lambing is due to start in June.
FIELD DAY
The site has scheduled its Field Day for Friday 22nd June at Keyneton Station, 11:00am – 3:00pm. With Ram season approaching, it will be an opportunity to come along and receive valuable up-to-date information. 2017 drop progeny of 16 leading Stud Merino Sires will be on display in sire groups together with results from measured and visual assessments. Guest speakers will include Ben Swain (AMSEA) and Joe Keynes (SA Merino Sire Evaluation Trial Site Host). There will be Trade Displays, with lunch and refreshments available on the day.
Same ewes, same environment, same management. Please register your interest with SA Merino Sire Evaluation Site Coordinator Anna Cameron, acameron@yalumba.com, or mobile 0403 747 332.
Download the PDF version of this article: